Bicycling articles in the Philadelphia newspapers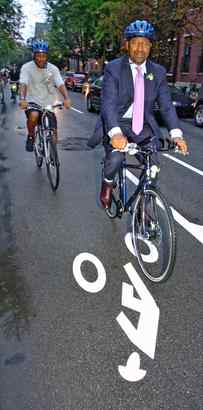 CLEM MURRAY /Philadelphia Inquirer. Mayor Nutter rides down the new Pine Street bike lane.
-
Bicycle shops striving to be community hubs
(
Philadelphia Inquirer
)
-
Stu Bykofsky: Bicyclists given too much roadway?
(column in the
Philadelphia Daily News
, negative about adding bike lanes to downtown streets)
-
Of Byko & bikes
(excellent response to the Bykofsky column by Kyle Gradinger, Board President of the Bicycle Coalition of Greater Philadelophia
-
Head Strong: It's time for cyclists and motorists to reconcile
(excellent column by Michael Smerconish in the
Philadelphia Inquirer
, from earlier in September)
-
Where bikes are heading: a look at the trends
(Associated Press story)
-
Letters: Biking a smug, counterproductive fad
(letter to the editor response to the Gradinger op-ed)
-
Philly ranks high in bike commuters
(short report in the
Inquirer
about data on bicycle commuting)
-
Howl of the Day: Are the bike lanes good enough?
(blog entry on the newspaper website about how pothole filled roads are bad places for biking...)
Labels: bicycling, transportation planning