Loving the city and the playable city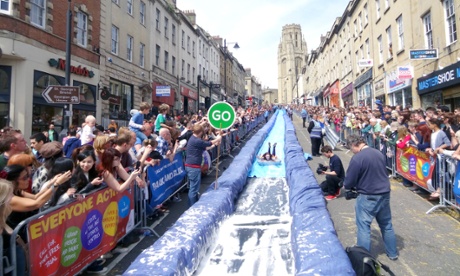 Luke Jerram's crowdfunded Park and Slide project temporarily transformed Park Street in Bristol into a 95-metre water slide open to the public. Guardian photo.
A few weeks back I was talking with a DC planning official, who was comparing NYC and DC, having just returned from a trip to Manhattan, and s/he commented on how "you don't feel love" within DC, like you feel like you belong in the same way that you do in New York City.
I think a goodly part of that comes from the necessity in NYC of living in part "outside" and having to deal with people on the streets, sidewalks, subways, buses, etc. every day. Conneccting and community can't be avoided.
And also because of
the interest in maintaining and expanding access to quality and interesting public spaces, such as the recapture of street space for public space use
, not just on prominent streets like Broadway, but elsewhere in Manhattan, Brooklyn, Queens, and the Bronx (I don't know about Staten Island), the expansion of bicycle infrastructure--often in the face of opposition, the various park enhancement programs, which include public sculpture programs, concerts, and food sales, although this is not without controversy because some areas are capable of raising a lot of private money for park improvement activities and others aren't ("
De Blasio Parks Stance Unsettles Some
,"
Wall Street Journal
).
I think
another element has to do with the various cmmunity-focused organizations
, some run by business interests sure, like business improvement districts, but the various community, neighborhood, and citywide advocacy groups too, and in planning, like the Municipal Arts Society, Center for an Urban Future, Transportation Alternatives, the Regional Planning Association.
Along with the various universities and colleges and centers and museums, libraries, and other cultural institutions
that bring academic and and other perspectives to community involvement, activity, and improvement.
In short
so much of New York City is engaged, and engaged in city life, in a way that many other communities are not.
Making cities playable
. But I wonder if some of it is just promoting "play" enabling people to act on their own and together, and just being outside?
Yesterday and today, in Bristol, UK, there is the
Making the City Playable
conference ("
Playable Cities: the city that plays together, stays together: Forget about smart cities, Playable City ideas – like Bristol's water slide or its temporary play streets – are a human response to the coldness and anonymity of the urban environment
,"
Guardian
), focused on this broad topic, including the unveiling of the project chosen as the winner of the
Playable City Award 2014
.
Parts of the conference are being live-streamed, so you can catch some of it today.
--
Power of Cute program
, Greenwich, which painted the metal gates of retail shops in positive images, which led to an 18% reduction in crime in the adjoining area
Re:Bar San Francisco and Parking Day as a precursor to the "Playable City" movement.
In 2006, Re:bar, a design collective in San Franciscco, created "Parking Day," where they made over street parking spaces as places usable by people ("
Drop a coin in the meter and enjoy the park
,"
San Francisco Chronicle
).
Image from the first Park(ing) Day. The group Rebar declared Sept. 21 "Park(ing) Day" and installed this temporary park in a parking space on Mission St. in downtown San Francisco, CA. The group moved the park to several different parking spaces throughout the day. Port-a-park: A temporary park was set up in a parking space on Mission Street by Rebar, an art collective. The park was moved several times that day. San Francisco Chronicle photo by Laura Morton.
That outsider movement has since transmogrified into the "parklet" movement, which has been adopted as policy and practice by many cities, including San Francisco.
Park(ing) Day is still going on. This year it is Friday, September 19th
.
This piece from the
SF Chronicle
, "
S.F.'s uncommon areas: Plazas created from scraps of urban land
," is about the most current iteration of the creation of small, usable and/or remade park spaces, including Mechanics Plaza, which now has a large scale checkerboard.
Caption: Visitors listen to music, eat lunch and pass through Mechanics Plaza on Market Street in the Financial District. The band Dos Gardenias played at noontime as part of the People in Plazas Summer Music Festival. Photo: Leah Millis, The Chronicle.
Interestingly, most of the comments on the article are about people opining about the likelihood of homeless people taking over such parks, and making it uncomfortable for other people to use.
This is an issue, and in my experience, SF does have a particularly aggressive group of "street people" who are quick to take offense, spit on people, challenge you, etc. making use of the public space somewhat problematic in some instances.
So it is a challenge to figure out how to have spaces being open to all, and comfortable for all, while respeccting freedom of expression and safety simultaneously.
Labels: branding-identity, civic engagement, community building, participatory democracy and empowered participation, urban design/placemaking