Why doesn't WMATA monetize air rights of station entrances?
I could write a long post about this but it isn't really necessary. There are a number of instances where Metrorail station entrances abut buildings, but for whatever reason it doesn't appear as if WMATA was at all interested in entertaining offers for incorporating the air rights above the space into the adjoining project.
There are a couple exceptions, involving public projects. The Washington Convention Center rises over the Mount Vernon Metrorail Station on 7th Street. So does the Park Place Apartment Building on the west side of the Georgia Avenue-Petworth Metrorail station. The latter project was built on land formerly owned by WMATA.
U Street Metrorail Station entrance, 1200 block. Image from Google Maps.
By contrast, station entrances on U Street, on 7th Street at S Street NW, 8th and P Street NW, and in Columbia Heights, are distinctly separate from the private buildings constructed adjacent to the respective stations.
In each of these instances, had the air rights been incorporated, not only could WMATA generate additional revenue from a long term lease of the air rights, but the city would generate more revenues in property taxes, commercial and personal income taxes (from employees or residents) and sales tax (from retail spaces) and depending on the nature of the project, could accommodate more residents.
Park Place Apartments. The west side station entrance is at the far right of the photo, in the "black section" to the left of the farthest right section of the building.
The entrances would also be weather protected, like the one at the Park Place Apartments, were they incorporated into buildings.
For example the block around the 8th and P Street NW entrance is comprised of affordable housing, and had the Metro station air rights been incorporated into the current project, more housing could have been provided.
7th and S Streets NW entrance to the Metrorail station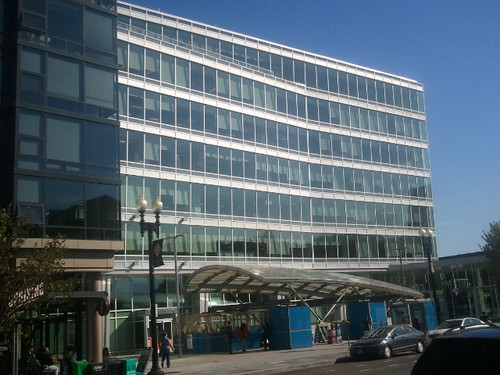 Channing Phillips apartments, including a newly constructed section, on 7th Street NW across from the Watha T. Daniel Public Library and adjacent to the P Street station entrance in the upper left of the photo.
Flickr image of the Highland Park Apartments at 14th and Irving Streets NW by Alice Crain.
Labels: municipal finance and budgeting, real estate development, transit funding, transit oriented development