The Anacostia River and considering the bridges as a unit and as a premier element of public art and civic architecture
Over the years I have written pieces about the Anacostia River, including
--
Wanted: A comprehensive plan for the "Anacostia River East" corridor
More recently I wrote
--
DC has a big "Garden Festival" opportunity in the Anacostia River
inspired by the way that Germany leverages the "International Building Exposition" and the "International Garden Festival" as urban design and revitalization intervention exercises to foster physical improvement of communities, and because I am participating on the Design Advisory Committee for the 11th Street Bridge Park project.
That project, the reconstruction of the 11th Street Bridges and
the coming reconstruction of South Capitol Bridg
e as well as the "need" to increase slightly the height of the bridge over New York Avenue to enable river navigability for boats has also made me think that DC and its transportation agency could think of the bridges that cross the river as a cohesive unit, as an element of civic infrastructure and art.
Instead we get this, proudly described as the city's largest public art project, a sculpture on the New York Avenue bridge over the Union Station railyard.
I think it's pretty hideous, definitely designed with little consideration or acknowledgement of the city's use of sculpture as public art in parks and circles as an element of the City Beautiful urban design movement.
Gateway Wings, New York Avenue Bridge Gateway, designed by Kent Bloomer Studio.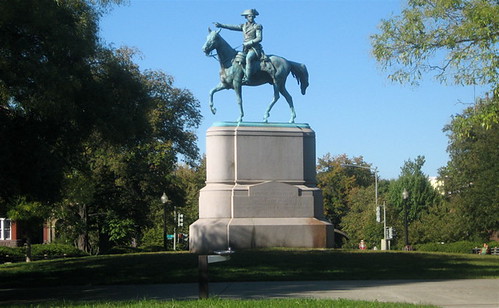 Statue of Gen. Nathanael Greene, Stanton Park, DC.
Hamburg Blue Port - Köhlbrandbrücke.
But other cities offer other examples, including Hamburg, often called the "City of Bridges" because it has somewhere between 2,300 and 2,500 bridges crossing rivers and canals.
This article
from the Amusing Planet website presents photos of some of the more memorable bridges in the city.
A couple other resources relevant to the Anacostia River include some reports done by various technical advisory panels of the Urban Land Institute:
--
Anacostia River Waterfront
, 2004
--
Anacostia Gateway
, 2012
Fountain Bridge, Seoul. Flickr photo by Danny Kim.
Amsterdam's Python Bridge is a pedestrian bridge. Flickr photo by Roel Prikken.
San Francisco's Bay Bridge at night. Flickr photo by Jack Chaiyakhom.
Labels: civic architecture, civic assets, public realm framework, rivers and waterfronts, transportation infrastructure, urban design/placemaking